https://www.royalacademy.org.uk/exhibition/antony-gormley to see images and explanations.
This blog reflects my thoughts on the current exhibition of Antony Gormley's work at the august Royal Academy, London.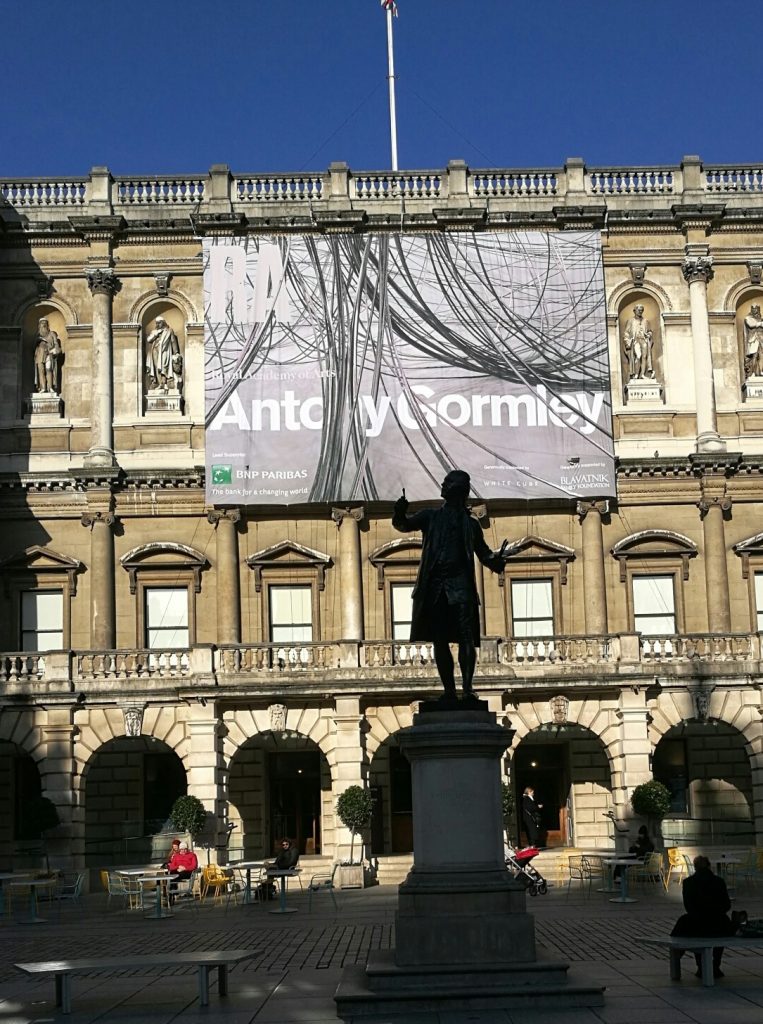 Margate Taster
Gormley's work is internationally known. The day bfore visiting the Royal Academy exhibition, I saw one of his works at a much more recent addition to the art world, the Turner Contemporary at Margate. I was there with friends to view the work of the Turner Prize nominees https://turnercontemporary.org/whats-on/turner-prize-2019/?–. On display was a selection of provocative talent. I would like to see Lawrence Abu Hamdan win http://lawrenceabuhamdan.com/ But I digress. It was moreover thrilling to see there, Gormley's Another Time positioned on an a rocky outcrop in front of the Turner Contemporary https://turnercontemporary.org/whats-on/another-time/ At high tide Another Time is covered completely. I watched the figure gradually emerge as the Margate Bay high tide retreated, and he seemed to rise resolutely from the waves. This turned out to be a taster to the Gormley feast at the Royal Academy.
The Royal Academy visit
Although I was familiar with standing figures created by Gormley, I had not previously appreciated the range and depth of his art. The exhibition offers a complex body of work; Gormley's concept of the body was not easy to grasp, the inter-relationship of our core and skin, what lies beneath the outer shell we show the world. The works confront us in physical space but also evoke sensory and emotional experiences and questions about identity and self. They are works of precision.
Among Gormley's early works are One Apple and Land, Sea and Air. I therefore appreciated for the first time his work's concerns with interiors and how they interact with a surface which both protects and hides them. One Apple, for example, encases in lead the flesh of an apple in its several stages of ripening. Land, Sea and air, three works with identical outward appearance, contain and conceal different contents. Encountering these early works helped me to understand better the later concrete blocks in which empty spaces relate to body shapes. Also, it helped me appreciate the subtlety of Body and Fruit, two hanging fruit shaped sculptures relating to the artist's own body. Their size and suspension evoke multiple visual associations, but the concept also spoke to me of the fusion of soft tissue with hardness, harking back to his One Apple.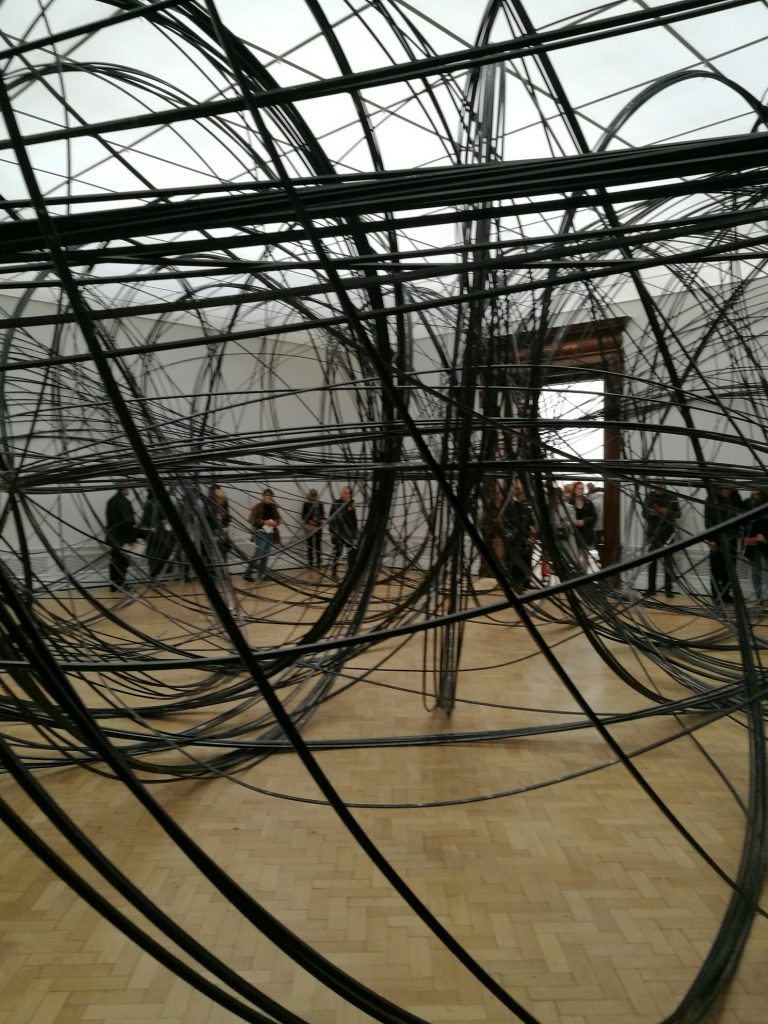 I enjoyed walking around Clearing VII, one of his most recent abstract works. The exhibition Guide notes that the artist describes this as "a drawing in space" but the coiling of aluminium tube, approximately 8 kilometres in length, also made me think of a huge skein of tangled wool; the hard material rendered soft in the mind's eye. Viewers were asked not to enter this sculpture but just to walk around it, which was a pity. Then I would have felt part of it. But we could go into another 2019 work, Cave. In this architectural body-shaped structure, I felt my way in total blackness (unfortunately with screaming children in front of me) along a narrow space to emerge in a bigger space dimly lit by natural light. It reminded me of being in the Beehive Tomb at Mycenae. I felt strangely stirred by this experience. Inside the sculpture, I was not a viewer but part of its essence. One woman was clearly disorientated by this and I had to steer her to the exit.
It was also fascinating to see the relationship between Gormley's daily drawing and his sculptures. He uses not just traditional drawing materials, but casein, and linseed oil, petroleum jelly, red earth, and crude oil.